This month I am the Guest Designer at PageMaps and today I have another page that I created using the February 2018 Double Page Sketch.
SCRAP RETREAT
I used the Echo Park Paper I'd Rather Be Crafting collection. I LOVE the colors in this collection! They are "so Jana!" (Infact, you may notice that they coordinate with the colors of my blog! Haha!)
A couple of years ago, my friend, Lori Allred, wanted to celebrate her birthday in a fun way … so she gathered together several crafty friends for a creative weekend scrap retreat. It was soooo much fun! My roommate was Amy Mitchell, my gal pal from when I used to work at Cricut. It was so much fun catching up with her!
We stayed at a home in my favorite Utah city, and spent the weekend laughing, eating good food, and creating a little bit in between.
I used metal dies to create the flowers using the I'd Rather Be Crafting Solid papers. I used some red enamel brads (My Mind's Eye) and aqua glitter buttons (American Crafts) from my stash to dress up the flower centers. I LOVE making paper flowers)
How cute are the icons in this collection?! I couldn't resist creating a little grouping with the typewriter, ATG glue gun, and a trusty, yellow pencil (my favorite are the Ticonderoga brand).
While we were at the retreat, we had a painting party! I haven't painted since my art classes in college, so that was a lot of fun to try again!
How often do you get together with your crafty friends for a night of fun? This has reminded me that I don't do it enough! I need to plan something soon! Want to come over? *wink*
SUPPLIES:
February 2018 PageMaps Sketch by Becky Fleck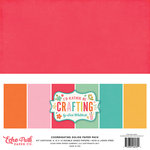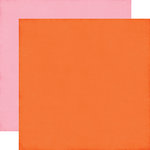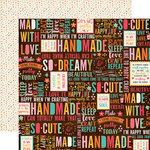 Have a great Monday!