Hello, friends! I've been playing with the Hello Today collection and wanted to share my latest layout with you! This collection is bursting with color and happiness! It reminded me of the silly-fun my two daughters have together, so I chose to work with these selfies they snapped one day while out running errands together.
I used a sheet of Mint Color Vibe cardstock as the base of my layout. I printed the photos in black and white to really let the cheerful colors and patterns of the Hello Today collection shine. Aren't they amazing?!
I matted each photo with a different patterned paper, then stacked up snippets of other patterns and Element cards behind the photos to create one large, layered photo mat.
Next, I cut out several label shapes from the Element card side of each paper to use for my journaling. I was so happy when I realized I had a rainbow of labels to use! I stacked them up in rainbow order to the side of my photos. This allowed space for a longer block of journaling.
Instead of a title, I chose to fussy-cut my daughters' initials from the monthly Element Cards. I accented the monograms with more fussy-cut designs. I finished off each cluster with a few Enamel Dots and stamped asterisks from the Hello Today 6×8 Clear Stamp.
The result is a super-FUN page that makes me smile! I had a blast playing with this collection and I know you will, too!
See you next time!
SUPPLIES USED IN THIS PROJECT: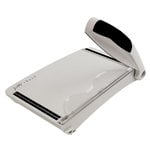 Take My FREE Class at Scrapbook.com!