Have you seen the NEW Bunnies & Blooms collection from Simple Stories? Even if you don't have any Easter or Spring photos to scrapbook, the florals and 'B' side patterns make this collection a must-have! I am using it today to scrapbook these photos of my daughter and I enjoying lunch together at her elementary school for her birthday.
NOTE: Scroll down if you'd like to watch the process video for this layout!
Some page designs come together quickly for me, while others are a struggle. This was one of those pages that practically put itself together. LOVE when that happens! You can watch my process in the video below.
I thought the 'Bloom' title worked well for this birthday layout, since my daughter was blooming into a young lady. 🙂 I love the floral accents on the title pieces in this collection. This piece is from the Chipboard Stickers, but you can find even more in the pack of Foam Stickers. Yay!
The chipboard title, rose and butterflies add dimension to this project, but to add even more pizazz mix in additional dimensional embellishments like the shiny decorative brads and enamel dots.
The machine stitching and distressed paper edges add texture.
Within the last year Simple Stories has added 'Tags' and 'Journal Elements' papers to their line-up of cut apart sheets with each collection. I love the journaling options this gives for scrapbook pages. I almost always use a journal spot to write the details on my layouts. That way, if I mess up writing the information, I'm not ruining my entire page. I simply cut out another one and try again! And there are so many different styles, colors, and sizes to choose from on a single sheet. Awesome!
Isn't the Bunnies + Blooms collection beautiful?! Would you use it to scrapbook Spring or Easter photos? Or would you use it as an 'everyday' collection like I did here? Tell me in the comments below!
Have a great day!
SUPPLIES USED IN THIS PROJECT: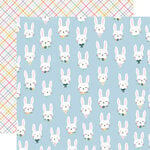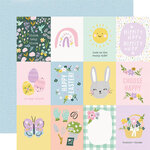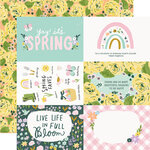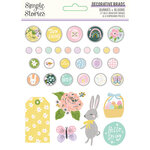 Take My FREE Class at Scrapbook.com!