Spring is in full swing here in Utah and that means the weather can't decide what it's going to do each day. LOL! In fact, just this morning we had snow. It's melted now. Each day is a surprise in the Spring!
I have several projects that I have been creating for 'Simple Stories LIVE' that I would like to post here on my blog, so I will start with the most recent.
Last Friday I created a layout using the beautiful Simple Vintage Indigo Garden collection. I ADORE the colors in this collection. The navy, pink, sage, and yellow are swoon-licious! This page features photos of two of my daughters that we snapped of them on a Springtime drive in the mountains a couple of years ago.
I will post some detail shots below, but if you would like to watch the process of this page coming together, stop by the SimpleStories TV YouTube channel HERE!
In the upper left corner of the page I tucked a doily from the Chipboard Clusters behind the photos to connect the two frames together and then tucked in butterflies and a floral piece from the Floral Bits & Pieces pack.
The large title piece is from the Page Pieces. The journal block is cut from the Journal Elements Paper. I then tucked in more butterflies and a floral stem from the Floral Bits, and added a few of the Layered Stickers.
A few more strips of patterned paper at the bottom of the page anchors the design. I LOVE the way that it turned out!
Thanks for stopping by today! Happy Spring to You!
SUPPLIES USED IN THIS PROJECT: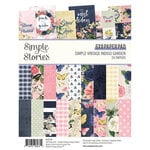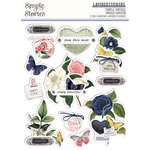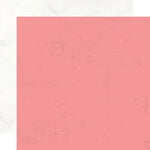 Take My FREE Class at Scrapbook.com!