One of the latest collections from Simple Stories celebrates all things crafty with the Let's Get Crafty collection. I mean you gotta love papers and stickers that celebrate our love for paper and stickers, right?!!! 😀
Several years ago, my daughter was attending an overnight camp at a local college about 2 hours from our home. Instead of dropping her off and making the drive back-and-forth for two days, I decided to grab my rolling scrapbook tote, put together some page kits, and scrapbook the night away at a nearby hotel.
It was the first time I had stayed anywhere all by little self … I was so brave! Ha! I was a bit freaked out by every little noise around me, but that just made it that much easier to stay up all night creating scrapbook pages while listening to the T.V. Of course, I had to take a few selfies of my crafting adventure.
Besides the Color Vibe cardstock in the background (Flamingo, Orange, and Black), all of the papers for this layout came from the Let's Get Crafty 6×8 paper pad. I even fussy-cut my title from one of the 6×8 Designer Pages from the pad.
The 6×8 pads are a great way to sample a collection if you are on a budget and are more versatile than you think! If you are craving something 'new' … they are a great way to freshen up your stash without the guilt of buying more collection kits. *wink, wink* Just sayin'! (But I personally advocate for treating yourself to ALL of the things! Ha!)
To watch the Simple Stories LIVE where I created this layout you can click on the video below.
Here's wishing you a creative and crafty weekend! Thanks so much for coming by!
SUPPLIES USED IN THIS PROJECT: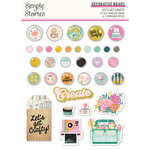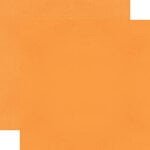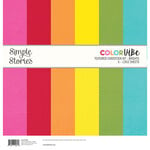 Take My FREE Class at Scrapbook.com!