It's been awhile since we have had babies at our house, but that doesn't keep me away from an adorable baby collection … especially the Simple Stories Boho Baby collection!
My niece was born 3 years ago and I still remember the day we got to meet her at the hospital. Her parents were so proud. I LOVE welcoming new, tender spirits into the world. They are so special and teach us so much. Here is the layout I made documenting this happy occasion.
I used the Foam Stickers for my title, surrounding the words with the adorable animal faces featured in this collection.
To the left of my photo grouping, I created a vignette including a dresser, crib, and blocks. The banner shape underlines and anchors all the pieces.
As usual, I love to reach for the Decorative Brads for a sprinkle of dimension! The tiny foam heart stickers from the Foam Stickers were fun to use as well!
Thanks for coming by!
SUPPLIES USED IN THIS PROJECT: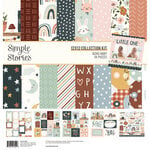 Take My FREE Class at Scrapbook.com!