I make lots of handmade cards, but you know what?! I am TERRIBLE at using them! For YEARS, I have wanted to come up with a system to get those cards out of the boxes I store them in and actually WRITE in them and then SEND them out to people … can you relate?
I decided to create a Card Organizer that will help me do just that. This binder isn't necessarily a place to store all of the cards I make, but it *IS* a system for selecting those cards and putting them in a 'queue' (so to speak) ready to write in each month. Let me explain it a bit more.
I used the Simple Stories 6×8 Black Stripe Designer Binder as the base for this project. I then used a variety of colors of Color Vibe cardstock to create pocket pages to go inside the binder.
Watch the video for more information!
On the front of each pocket is a calendar card from the Simple Stories Good Stuff collection and a list for each day of the month.
The idea is to write birthdays, anniversaries, etc. on the list, and then place cards for those occasions inside the pocket … ready to be written on. I can then keep this binder on my desk, by my bedside, wherever! to write and SEND the cards from my stash each month. It will serve as a 'transition spot' for the cards in between my storage box and the recipient. Great idea, right?!
Here is a closer look at each pocket in the album.
Did you like this project? Do you think that you will make one for yourself?
Let's put this project to use and become card-giving ROCKSTARS this year!
Until next time!
SUPPLIES USED IN THIS PROJECT: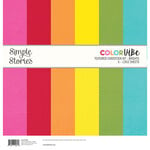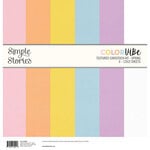 Take My FREE Class at Scrapbook.com!