Four years ago, my good friend Becki Adams unexpectedly lost her sweet son, Austin, to an unknown heart condition. In honor of Austin, Becki and her family created 'Austin's Memorial Library Project' where each year they collect books to donate to their local school. She also organizes a Scrapbook Process Video Hop in memory of Austin.
I am so honored that Becki invited me to contribute to this year's video hop. Each participant has created a scrapbook layout about reading, learning, or school. I LOVE to read! In fact, I wake up early each day to read my scriptures and other favorite books.
MORE INFO ABOUT Austin's Memorial Library Project
CLICK HERE to DONATE a book by visiting AUSTIN'S LIBRARY PROJECT WISHLIST ON AMAZON
Library Day was my FAVORITE day in Elementary School! I loved hearing our librarian read us stories and then wander among the aisles of bookshelves, looking for something special to check out that week.
For this project, I used the Simple Stories Farmhouse Garden collection. I love the color palette of blush, soft blue, with accents of soft black. I also loved the rooster images in this collection because of the subtle nod it gave to my MORNING routine.
For the title, I used the Simple Stories Black Foam Alphas along with a label from the Sticker Book. I used some older alpha stamps from my stash (Studio Calico) to stamp the word 'routine' on the label, then accented it with two silver mini brads.
The book dies are from KSCraft and can be found on Amazon by clicking HERE. I stamped the front of the smaller book with a tiny phrase from the Farmhouse Garden clear stamps.
I love collecting school-themed and office-themed scrapbooking products. I was happy that I got to use this Hero Arts Library Card Stamp & Die Set for my journaling block.
Thanks for coming by!
SUPPLIES USED IN THIS PROJECT: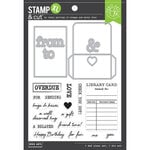 KSCraft Book Dies https://www.amazon.com/shop/janaeubank/list/3R1RKBONB2HJ8
Take My FREE Class at Scrapbook.com!